Women's Soccer
Returning to NWAC South Region competition Fall 2023.
Ospreys Women's Soccer ID Camp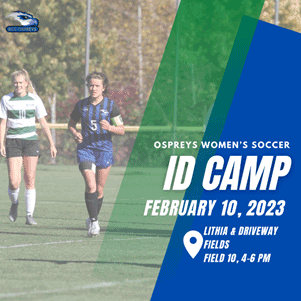 Rogue CC Women's Soccer program is returning to competition for the Fall 2023 season. As part of our build back we are hosting a FREE ID Camp for any Women's Soccer player who is a junior in high school or older.

The camp will be run by Head Coach Gavin Wilmott in Medford OR at Lithia and Driveway Fields #10 (Stadium) Friday February 10th from 4:00 p.m. - 6:00 p.m.

Please complete the registration form we will be in contact about the event as we get closer. Thank you for your interest and support of Rogue CC Women's Soccer.