Christine Nelson Biography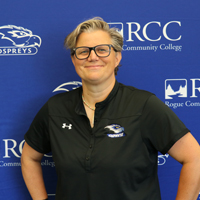 Christine Nelson is the inaugural Head Coach of the Women's Volleyball program. Christine came to Rogue via Grays Harbor where she spent 6 seasons as the Head Volleyball Coach which included bringing the program back from hiatus. She has coached at the collegiate, high school and club levels for the past 21 years.
Before Grays Harbor, Coach Nelson guided Hoquiam High School to their first ever Evergreen League Championship in her short two-year stint. Nelson spent eight years as the head Volleyball Coach at Yelm High School from 1998-2006. She started her coaching career in volleyball in the Bethel School District as the Head Coach at Frontier Junior High and an assistant coach at Bethel High School where the Braves placed 6th and won a state championship. Coach Nelson has also been involved in local volleyball clubs throughout her coaching career, including, G-Town, PowerSurge and most recently Grays Harbor Volleyball club where she is both a coach and club director.
In the past, Coach Nelson also was the Head Women's Basketball Coach for the Chokers. From 2006-2011 Coach Nelson was the assistant basketball coach at Concordia University in Portland, Oregon, helping to rebuild the program. During that time the Cavaliers won two Cascade Conference Championships and qualified for the NAIA National Tournament, making the "sweet sixteen" in the 2008-2009 season.
Coach Nelson has also been involved in coaching numerous sports at the high school level. During Nelson's tenure at Yelm High School, she taught history, PE, and Leadership while coaching multiple sports including volleyball, worked with both the girls and boys basketball programs, and coached softball.
Nelson received her bachelor's degree from Pacific Lutheran University in 1997. She went on to earn her master's degree in education/technology from Lesley University in 2005. Coach Nelson is a 1992 graduate of Montesano High School where she was a three sport athlete.
In the first 3 years of program history Coach Nelson has amassed two Region Championships in 2019 and 2020, finishing in 5th and 9th in the NWAC Conference tournament. Currently holding a record of 60-11 she established a high level of Volleyball from the beginning. Named Coach of the Year in 2019 she has produced 5 Conference Players of the Week, 6 1st Team All-Stars, 3 2nd Team All-Stars, and 20 Region Players of the Week.